Tennis Socials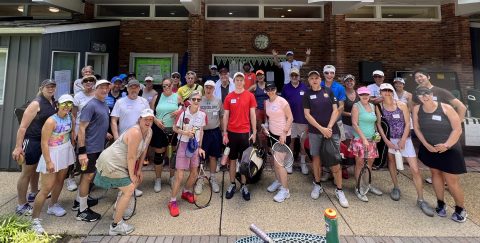 All members regardless of skill level are invited to participate in these social and friendly round-robin doubles tournaments. Players are randomly paired and rotated after each match so that everyone gets to play with everyone. 
RSVP on https://courtreserve.com/  website under the Events tab. Please reach out to Tennis Chair for any questions.
Clinics and Lessons for All Ages
BTA classes and clinics are year around and can be found at  Carderock Tennis Lessons
Let us know if you would like to request a class or if the class you want is full. We will evaluate availability to start additional classes so no one is left out.  
Broken or Bad Strings? BTA to the Rescue! 
BTA will re-string your racquet in 3 business days. (Drop off Monday/pickup Thursday, drop off Friday/pickup Wednesday, etc).
Contact: Nitin Deodhar, BTA Director at bethesdatennisacademy@gmail.com 
Racquet drop off location: CSSC Club front door mail slot. Must email and confirm with BTA prior to drop off.
Cost for labor & string: 
Synthetic $30
Synthetic/poly blend $40
Full-poly $50
Carderock Tennis Teams
Women's Team
The Women's C1 team plays in the fall and the spring in GWTA (Greater Washington Tennis Association).  That runs typically from September to the beginning of November and March through the beginning of June. Practices are on Thursday mornings typically at 10:00 and they usually run  7 or 8 weeks in the fall and again in the spring and basically follow the GWTA league schedule.  Matches can be in Maryland, D.C. or Virginia and are on Tuesdays mornings.  They begin at 10:00am with warmups at 9:30am. Starting in May, women participate in the Evening League. No practices and matches are on Thursday evenings starting at 6:30.
If you're interested, Please contact team captain Jo Borsh at joejothga@verizon.net
Men's Tennis Team
The Carderock Men's Tennis Team is active year 'round. We play other clubs in The Evening League, where we play Tuesday evenings roughly mid-May through mid-August. Not all team members play in every match. It's nominally a USTA 4.0 league, but there are many players in the 3.5-4.0 range, including on our team. Weather permitting, all year we have an optional practice on Sunday mornings. It's a great group of guys, and the practices, which always include doubles play, are a lot of fun.
If you're interested, Please contact team captain Steven Seitz at steven.e.seitz@gmail.com
COURT RESERVATIONS
Carderock Springs offers five hard surfaced courts. Court 1 and 2 are lighted. Court 3 has a practice wall. 
Court time can be reserved through the following link:  www.courtreserve.com or by downloading the CourtReserve app on your phone (For IOS: CourtReserve on the App Store (apple.com) For Android: CourtReserve - Apps on Google Play).
After downloading, open the app, find your club by typing "Carderock Springs", and create your family account filling the required fields and acknowledging the disclosures. Your account request will be sent to admins for review and approval. 
For a tutorial on using the app, click on the video Here. (Our setup is different from this video, as we did not preload your account information. As your first step, you will need to create a new login.)
You must be a member to book court time at Carderock for private play. 
***Note*** Members can now reserve a court 7 days ROLLING in advance. This means whatever day you go online to book you can do so 7 days forward from that day.
All play must be completed by 11PM.
GUESTS 
Members can invite guests to play with which should be indicated at the time of reserving a court at the booking site. 
A GUEST FEE OF $7.00 PER GUEST IS REQUIRED. (As of January 1, 2022 all guest fees must be paid on or before the reserved play time. (MEMBERS ARE RESPONSIBLE FOR ENSURING THAT ALL APPROPRIATE GUEST FEES ARE PAID. IF THE FEE IS NOT PAID AS STATED AN INVOICE WILL BE SENT TO THE RESERVING MEMBER.) 
Payment Envelopes as well are available at the bulletin board outside the tennis office and can be deposited thru the mail slot of the window to the left of the main entrance. Please put name of member and member number on the envelope.
WE NOW OFFER PAYPAL TO SUBMIT GUEST FEES 
The QR code and directions for use is posted on the tennis office window, as well as on the TennisBookings reservation page. Once scanned you will be directed to the club Paypal Account Portal and will be able to pay the fee using the credit card of your choice.  
---